DAT-daddy
DAT-daddy is the ultimate solution for editing industry standard Concordance DAT files. Do you struggle with "Concordance delimiters"? The standard Excel text import doesn't recognize them. DAT-daddy is an Excel add-in that allows any delimiter to be defined. Use standard comma; quote; and newline delimiters (or define your own). Import your file, use the power of Excel to manipulate your data; and then export with custom or standard delimiters back to a DAT file. It's simple, fast, and error free.
Import - Manipulate - Export - DAT-daddy makes it that easy!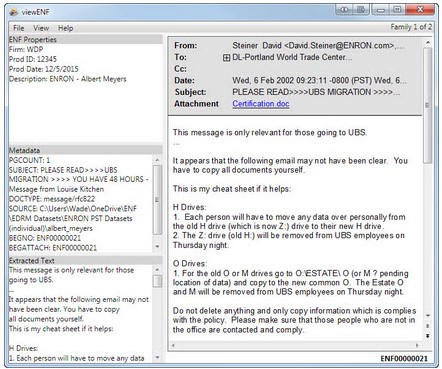 viewENF™
viewENF™ is the heart of the concept behind encapsulated native files. This viewer allows you to view ENF™ files, much like the Adobe Reader allows you to read PDF files. The viewENF™ application uses industry proven and standard native file viewing technology to open highly secure, encrypted ENF™ files. The application allows you to view the embedded native file(s) including family relationships, metadata, production identifiers, and extracted text.
It is designed to support multiple passwords assigned to the ENF™ file by the creator, limiting functionality to only those features for which you've been granted access. Features such as the ability to print the native file; export as an original native file; export metadata as either a standard CSV or Concordance DAT file; view metadata and extracted text information; and even email a copy of the ENF™ file.
viewENF™ is lightning fast, robust, and designed with a clean, easy to use interface. It is all you will need to view production documents in the new industry standard ENF™ format.
makeENF™
makeENF™ is a tool designed to power the ENF™ engine. Get started today by converting existing Concordance native file productions (DAT) into a set of encapsulated native files. This is the quickest way to transform existing productions into the new E-Discovery industry standard for providing highly secure, encrypted delivery of document productions. As an added benefit, makeENF™ also converts simple collections of native files residing in a directory structure. Point makeENF™ at a location of files - and it will analyze them for potential metadata content, allowing you to pick and choose which fields get embedded into the ENF™ files; add production identification information; and secure the files with its proprietary multi-layer encryption technology. This is the tool you need to begin your journey into the new standard, saving you time, costs, and delivering the new standard in E-Discovery productions.
An intuitive interface, the ability to save configurations as templates for re-use, and lightning fast conversions are the hallmarks of makeENF™.